Methods of Payment
The payment methods we accept are the following:
PayPal
Credit card through PayPal.


The most secure method of payment Learn more by visiting this link: www.paypal.com
Bank Transfer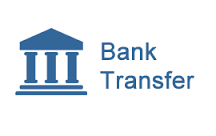 Make your payment directly into our bank account. Please use your Order ID as the payment reference. Your order will be shipped when the funds have cleared in our account.